Six By Nico: Manchester – Review
Went to Six By Nico other week for a "Friendma" – Christmas get together with friends. Six By Nico changes its menu every 6 weeks with a different tasting menu.
We went during the Mad Hatter's Tea Party theme – so lots of the things not as they seem. For example the Steak Tartare was not actually steak/meat. Also the menu was edible – apparently anyway! Tasted edible. LOL. All of it was good, unusual because of the theme. Favourite dish was the sole (fish). Delicious. Lovely fish, lovely flavour, plenty of garlic (black garlic emulsion). Yum!! We also shared a few of the snacks and got the Aperitif.
(Here was the vegetarian menu:)
APERITIF
"Through the Looking Glass"
Edinburgh Gin/Elderflower/Raspberry Tea/Drink Me Potion
SNACK
Chicken Caesar Salad Croquette
EAT ME, DRINK ME!!!
Mushroom Consomme, Parmesan & Truffle Empire Biscuit
Course 2
CHESHIRE COPY CAT
Chicken Liver Parfait, Orange Jelly, Toasted Sourdough
Course 3
STEAK TARTARE?
Goats Cheese Pannacotta, Green Olive Tapenade, Tomato Tartare,
"Yoghurt Yolk"
Course 4
CHECKMATE
Sole, Black Garlic Emulsion, Cauliflower, Lemon Verbena Foam.
Course 5
OFF WITH HIS HEAD
Pork Fillet, Head Croquette, Black Pudding, Roasted Carrot & Spiced Prune
Course 6
QUEEN OF HEARTS
White Chocolate Mousse, Red Velvet Cake, Raspberry, Pecan Brittle.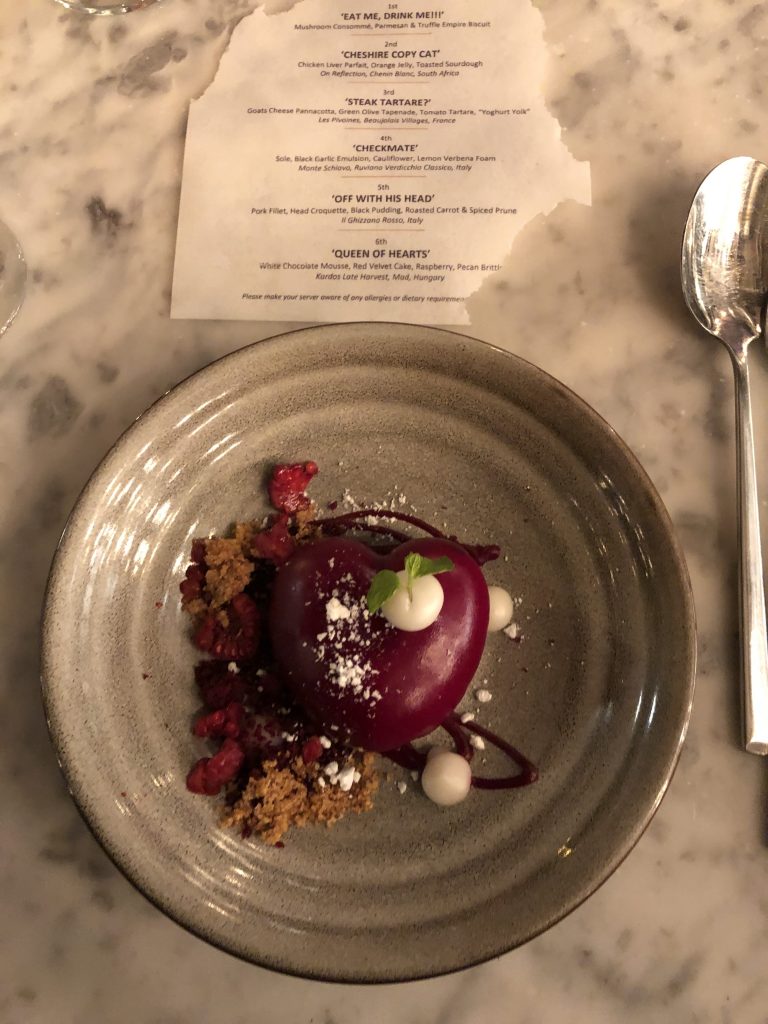 So overall really good food – if you want this exact menu I think you have a few days left – although probably fully booked now?? The next menu is a "best of" and the pork fillet dish is one of the possible contenders. Personally I would have picked the fish dish from the menu.
Six By Nico: Manchester – https://www.sixbynico.co.uk/manchester/
Leave a Reply