Russia 2018 – my World Cup review
So the World Cup ended about a week ago and had time to think about it. I think most people will agree it was a really good World Cup – on and off the pitch. Some people saying it was possibly the best World Cup ever?
Beforehand, especially in the UK, there was lots of scaremongering on the media – about how dangerous it was going to be etc. I was worried there would be clashes between fans (and police) – especially involving England fans and Russia fans. A quick Google shows some articles from British media outlets: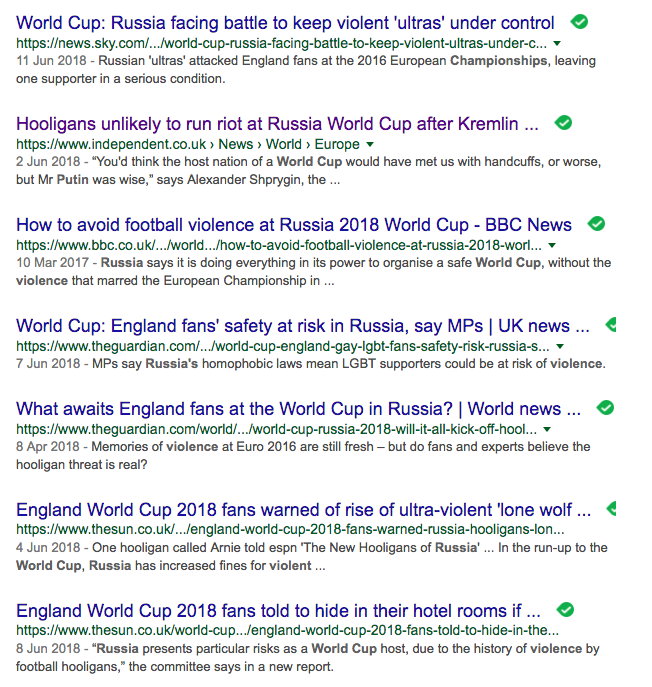 From Russia With Love
But I heard of nothing major. I did hear about some isolated things though. And it wasn't just watching/reading UK media and seeing lack of incidents, saw on social media from people who were actually at the World Cup and in Russia and how brilliant they found it all – the actual organisation of the World Cup but how warm and friendly the Russian people were. Nothing like the reputation they same to have outside of Russia.
Another way of thinking about it all though was that all eyes were on Russia so the last thing Putin would have wanted would have been it being ruined by hooligans. I wonder if Putin had some zero tolerance thing where any problems and people would be locked up for a long time?? Or maybe with Russia doing so well in the World Cup, this reduced chance of problems. Similar with England fans – we all know that when England fans go abroad, there is often incidents when a few England fans who can't handle their drink, act stupid. Just a few months ago during a friendly in Amsterdam, there were England fans jumping into canals, throwing beer at tourists and throwing bikes into the canal.
The football ….. was brilliant
Anyway, back to the actual football. And what great football it was. There were so many great games. The very first game, Russia beat Saudi Arabia 5-0. Saudi Arabia were pretty rubbish but that really kicked the game off with the host scoring so many goals – and playing well. Then there was Spain v Portugal which had it all. Goals, incidents, Ronaldo hat-trick including last minute goal.
Other great games include:
Russia v Croatia, Belgium v Brazil, Belgium v Japan, France v Argentina, Croatia v Argentina, Germany v Sweden
Also, we had lots of the "big teams" going out early so plenty of shocks, drama and the underdogs winning. The semi-finalists in this World Cup between them had 2 World Cup win. In 2014, it was 10. There were lots of last minute goals – there was 9 winning goals which happened in the 90th minute or later. In 2014, it was 4. Loads of great fans – the South American fans seems to bring with them so meant passion (and noise). The Panama fans went crazy when they scored goal v England – to make it 6-1! It was their first ever World Cup goal.
VAR … Farce???
Lots of VAR drama – BUT I think 9 out of 10 of the decisions it (the ref with aid of VAR) got right – just a shame that in the Final it went all wrong with the penalty). The best use of VAR was that 1st South Korea goal v Germany. Was given as offside but then rightly changed. Who knows what might have happened if goal was not given.
Goat 🐐
We had both Ronaldo and Messi at the same World Cup (at one point it didn't like it was going to happen) – unfortunately both didn't really perform that well but had their moment. Ronaldo had more "better moments" than Messi who was pretty rubbish – as was his teammates. But each produced at least one moment of magic. E.g. Messi scoring great goal, Ronaldo hat-trick including that freekick. It was tough work for Messi though – carrying his team, the hopes of a country. (And managing a team!) Will this be the last World Cup for Messi and Ronaldo? Maybe. You get the feeling that the baton is being passed on to Mbappe.
Tournament of great goals
So many! Pavard volley, Nacho volley, Quaresma, Trippier freekick, Lingard, Cheryshev (x2. That touch to dink it over defender for his 1st v Saudi Arabia), Kroos (THAT freekick), Ronaldo (last minute goal), Chadli – last second goal (very good goal but meant more for its timing and being the winner), Messi, Di Maria screamer, Mertens, Cavani, Kolarov, Coutinho. Probably forget a few others!
Oh Neymar.
But one of the memories of this World Cup will be Neymar and his playacting. In 4 games he was on the floor for 14 minutes! A joke. Thankfully VAR was in use so he didn't get the decisions he wanted. He is such a great player – so much talent but just ruins it. You'd think with so many cameras and VAR, he wouldn't bother. Maybe this World Cup will be the tipping point and he will stop now?? (Doubt it!). More people seem to be making fun of him and doing the Neymar Challenge including his teammates. Even kids:
https://twitter.com/KillieCommunity/status/1015241193754636289?ref_src=twsrc%5Etfw%7Ctwcamp%5Etweetembed%7Ctwterm%5E1015241193754636289&ref_url=https%3A%2F%2Fwww.scmp.com%2Fsport%2Fsoccer%2Farticle%2F2154431%2Ffifa-world-cup-mexican-club-has-last-laugh-twitter-hashtag-neymar
The best advice though for Neymar and his diving was from Eric Cantona, the commissioner of football. Here is one of his many brilliant videos (also recommending checking out his Instagram):
And while talking about playacting, have to mention Pepe. Hes been doing it for years but still does it. Diving, rolling on the floor to try and get players sent off. Its just cheating.
But Neymar and Pepe were not the only ones – punishment needs to be harsher – and maybe they will stop it?
Player of the Tournament: Modric. Closely followed by Hazard – surely now off to Real Madrid?
Disappointment: Argentina. Germany
Most polite team and fans: Contender is Senegal who's fans tidied up after the match. May have been done by other teams but not photographed) but this vote goes to Japan. There fans bought big rubbish bags and cleaned up rubbish at end of the match. And the team, after losing last minute to Belgium, left the changing room spotless and left a note saying Thank You in Russian.
Funniest Moment: (thanks Michy Batshuayi)
"Negatives" of tournament: Neymar. Pepe. The Japan team in that last 10 minutes v Poland when they just walked
My team of the tournament
Comments:
Putting Pickford in because made World Class saves which gave England defence confidence. And without his saves, I think England would have actually gone home much earlier. Subacic and Lloris had good WCs but ruined it all in the Final. Godin – although Uruguay didn't get to later stages, he was immense! Perisic – would love him (or Rebic actually) at United! Arguably there were not totally stand out, strikers. Certainly not Kane! Mbappe was really good but think the best out and out striker in World Cup was Lukaku. Kept changing my mind on Pogba or De Bruyne. I decided to go for Pogba – getting to final tipped it towards him as well as the goal in final. And him basically being France captain with stuff shown on and off the pitch. I was impressed with Cheryshev ever since he came on as sub fairly early on in first game when his teammate got injured. (Team probably a bit too attacking. In reality if this was a team, I would put Kante in – probably for Cheryshev.
Honourable mentions:
Cho-Hyun-Woo
Cavani (generally I think he is over-rated but I think he had a good World Cup – and maybe Uruguay would have gone further if he was fit in their last game)
Maguire
Courtois
Granqvist – leading Sweden to quarter final. Scored some big goals – all which looking nothing like a footballer 🙂
Kante – without him, France not same team.
Golovin
De Bruyne – such a good footballer!
Mina
Pavard
Umtiti
Rakitic
Lozano
(I heard Inui did really well for Japan but didn't see enough of Japan play).