Rudy's Pizza – review
If you live in Manchester, you probably know the go to place if you want pizza is Rudy's. Its generally considered to be the best (or certainly one of the) places to for pizza in Manchester. Thats not to say there are not other good pizza places – they are. And I have heard Honest Crust and Double Zero are both very good.
But prove if needed that Rudy's is really good is that it was named as one of the best pizzerias in the world in the International guidebook, Where to Eat Pizza, a couple years ago. (Honest Crust were also in the guide). The guide lists the best pizza parlours in 48 countries and Rudy's (and Honest Crust) were the only pizza places in the North West listed.
Recently the opened a new restaurant on Peter Street – much needed ;). Their first restaurant in Ancoats was often very busy and sometimes required waiting for at least an hour. It wasn't too bad, if you could wait, because you can leave your details and they will call you when table ready. Obviously don't go too far away – handily there are a few bars nearby such as Seven Brothers, Second City (a sports bar) or Elnecot (which I have reviewed).
With the new restaurant opening on Peter St, it means getting a table at a Rudy's pizza is much easier now. (And its very close to where I live so perfect!). The new restaurant is about twice the size of the Ancoats restaurant and with its big tall ceilings and big windows, it feels more open and relaxed. I really like the industrial feel with all the exposed pipes etc.
The new Peter St restaurant opened just over a month ago at the end of March. I visited about a week after it opened on Bank Holiday Monday (after being a ninja at Total Ninja – review on that to come soon – so needed food to restore energy!). I went for the mushroom pizza but added some extra topping with some prosciutto cotto. To drink I had one of the beers on the (always changing) specials board – went for Some Might Say by Manchester Brewing Co – which tasted good.
The actual pizza – of course was delicious. The pizzas are Neapolitan in style so with the thin base. As soon as it arrived just wanted to dive in! You get knife and forks if you want but I feel the proper way to eat pizza is with your hands. Although some parts of the pizza just slightly not firm enough so you just sort of have to grab it and fold it a bit. Mmmm. My mouth is watering right now while writing this!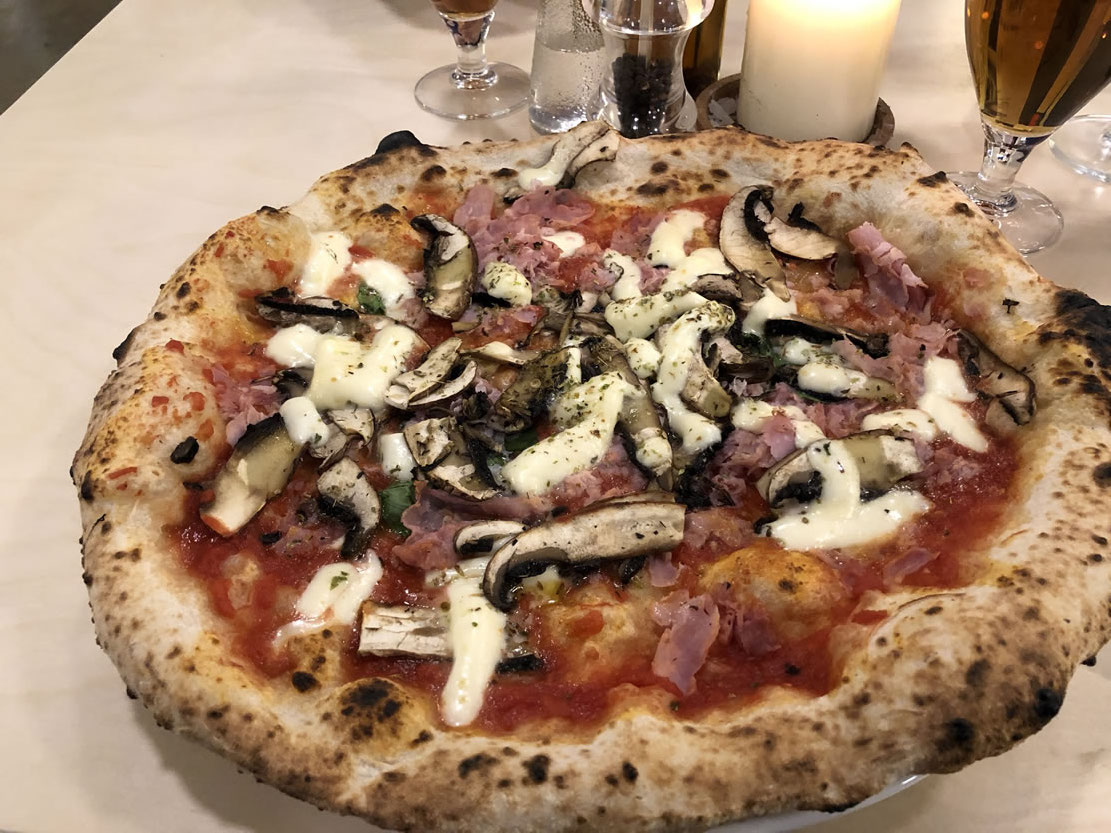 I visited for a 2nd time (the Peter St one) just a few days ago for lunch with a friend. We were both hungry so decided to share a starter and got the campana – buffalo mozzarella, prosciutto crudo, wild rocket radicchio and toasted bread. Mmmmmm.
The pizza I went for the Ancozzese pizza (this is usually a white pizza i.e. no tomato base) but I added a tomato base "topping" to my order. The Ancozzese is chilli flakes, smoked mozzarella, tuscan sausage, friarielli (wild broccoli). Yum!! After eating about half of the pizza, was getting a bit full and did contemplate if could get a "doggy bag" and take some home – for a great snack. But the pizza tasted too good and before knew it was down to the last slice!
I am sure if you live in Manchester, you will have heard of Rudy's and probably have been. But if not, why not?? Go. Like now!
P.S. Like the Ancoats one, they don't take bookings. First come, first serve. As I said, its a bigger restaurant so less likely to be full but may need to wait during busy times. There are several bars nearby you can pop in to get a drink while you wait. Brewdog is just next door and Albert's Schloss is next door on the other site. (Although Schloss is likely to be very busy itself and by the time you get a drink, your table will be ready!!). There is also the relatively new Irish bar Kiely's which is across the road which is sometimes quieter.
Rating:⭐⭐⭐⭐ (out of 5)
Website: http://rudyspizza.co.uk/