Nam: Review (Vietnamese food)
Vietnamese restaurant/bar opened up in Cutting Room Square around August last year. Its one of many new food/drink places to open recently (ish). Rudy's has been there for a while but over last couple years ish there has been Elnecot, Seven Bro7hers, Second City, Sugo, Canto to name just a few.
The restaurant has 2 levels. The restaurant/bar on the top level and then in the basement is a DJ booth, a load of records (LPs) on shelves and lots of seating.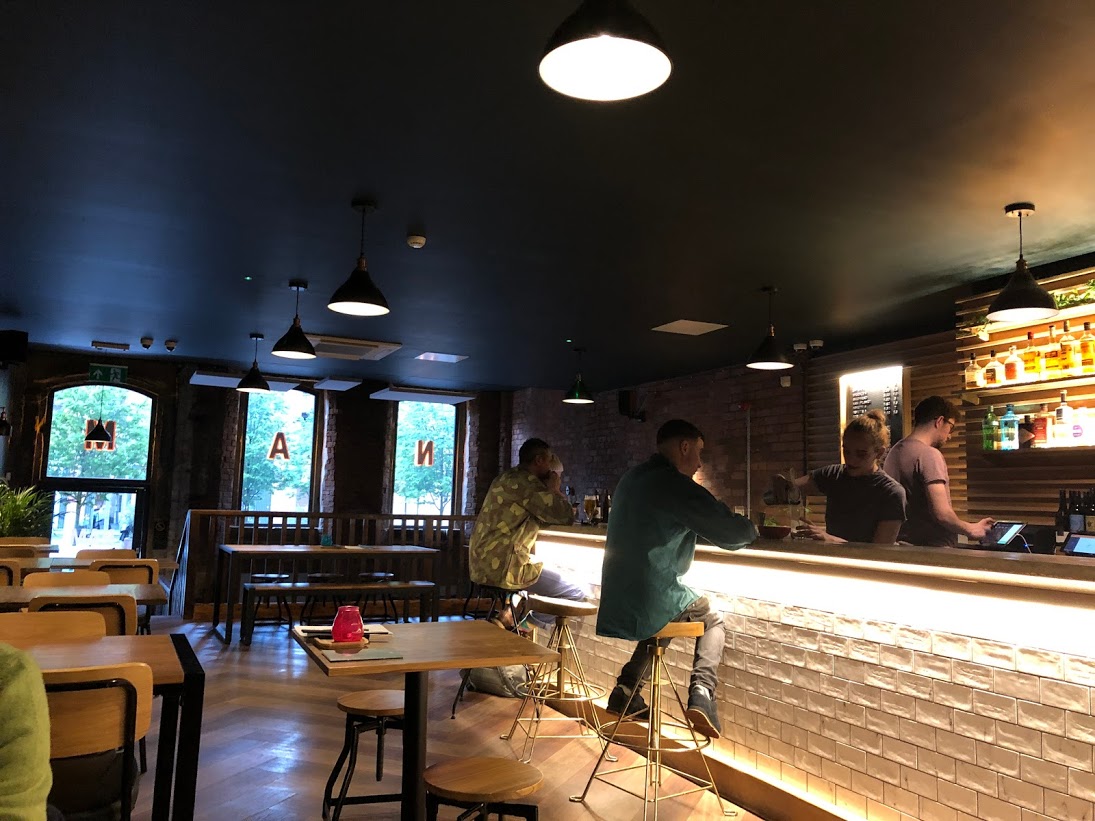 As a group of 4, we decided to share starters. (Actually before the actual starters we ordered, they gave us some prawn crackers – with some chilli and a peanut sauce. According to menu, this would normally cost £1.50). I like prawn crackers – although these were just from a packet.
We ordered some summer rolls. The pork and prawn one and the mango and pepper one (those are the only 2 summer rolls). They were OK. Nothing really much to them. I didn't really taste the pork in pork and prawn ones and didn't really taste any mango in the mango and pepper one. I forgot to mention about no coriander but luckily didn't taste any – until pretty much the last bite. There was a bit of garnish on the plate which was coriander so thought that may have been all the coriander!
For my main, I went for the Vietnamese pancake (Bánh Xèo). I have had this a few times before and like it – although I think it can be hard to make. First time I had it was at Mi and Pho and loved it. But also had it I Am Pho (in Chinatown) and it was a bit "doughy". It needs to be crispy! So guessing its hard to cook – or maybe was cooked wrong?
Bánh xèo is a crispy "pancake" made of rice flour – it looks like its egg because of the colour but thats from the turmeric. You get different fillings but the "base" is beansprouts, spring onions, some herbs and then could be pork, prawn, mushroom….. The one from Nam had both pork and prawn in it. Tasted good – maybe a little bit on the small size though.  But I just love the taste, the texture. Yum. (The one from Nam was good although not quite as good as Mi and Pho).
We bought a couple vouchers from (Manchester) Confidential app – its one of those where you buy a voucher for half the price e.g. a £10 voucher for £5. Maybe we should have bought more vouchers?? (Strangely, Nam does not appear on the iOS Confidential app?). It does make it complicated when trying to split the bill if people had different things!! LOL. So if you do go, its worth checking on Confidential app to see if still has offer. Worth checking for all restaurants actually.
So overall Nam was OK. I like the place, the service was good. The food was alright – the summer rolls were not bad but just not much to them (plus lacking the taste of the pork/mango). The Vietnamese pancake tasted pretty good (plus as I said, it can be made bad). I think next time would order more because a couple summer rolls and the pancake were not that much food!
Here is the food menu:
Web site: http://nammcr.com/
Although it may not be necessary, I booked a table. When we arrived at 630, it was quiet, by the time we left it was fairly busy. I booked table by just sending them message to them via Facebook.