Magical Christmas Movie Experience – Mayfield
Last week I was lucky to get an invite to the launch of the Magical Christmas Movie Experience in Mayfield Depot. I wasn't too sure what to expect but had a good time. I arrived at Mayfield Depot and then immediately saw a "Winter Wonderland" – it was decorated all Christmas-y and to enter, you went through a "snow tunnel". Even I felt a little bit Christmas-y! 😂
The main area was the cinema room with the popup cinema. The actual cinema room area was lovely and warm. There are some seats, tables and some big bean bags at the front. I was impressed with the actual setup with the large screen, big projector and big sound system.
The movie they were showing was Greatest Showman. I have never seen it before – although I have heard a couple of the songs. Well, I have heard a few more now and actually played a few songs off album many times on Spotify. I will have to watch the movie properly though as missed the start and spent most of the other time either eating the food – or queueing 😉
As well as the cinema room, there were a few bars. They had several cocktails on offer as well as some mocktails, a few beers, wine, prosecco, some soft drinks, some hot drinks etc. I went just for a beer and also had a Winter Punch – anything fruity with rum and I will be happy. It also had some whiskey in it – not really a fan of whiskey but combined with the rum and various fruit juices, it was nice 🙂
There were a few food stalls you could get some food. There was someone selling lobster – not something you normally see at a street food type event. And to be honest, at a cost of £19 for one of their dishes, that is a bit steep for "street food".
There was also someone selling burgers but I went for some food from Dim Sum Su. I have eaten the food from Dim Sum Su on a good few occasions although it had been awhile. Su recognised me and then mention it was ages! I went for the Japanese Karaage Fried Chicken Bao (and some salt and pepper fries). Tasted really good.
Here is the drinks menu – sorry, a bit blurred!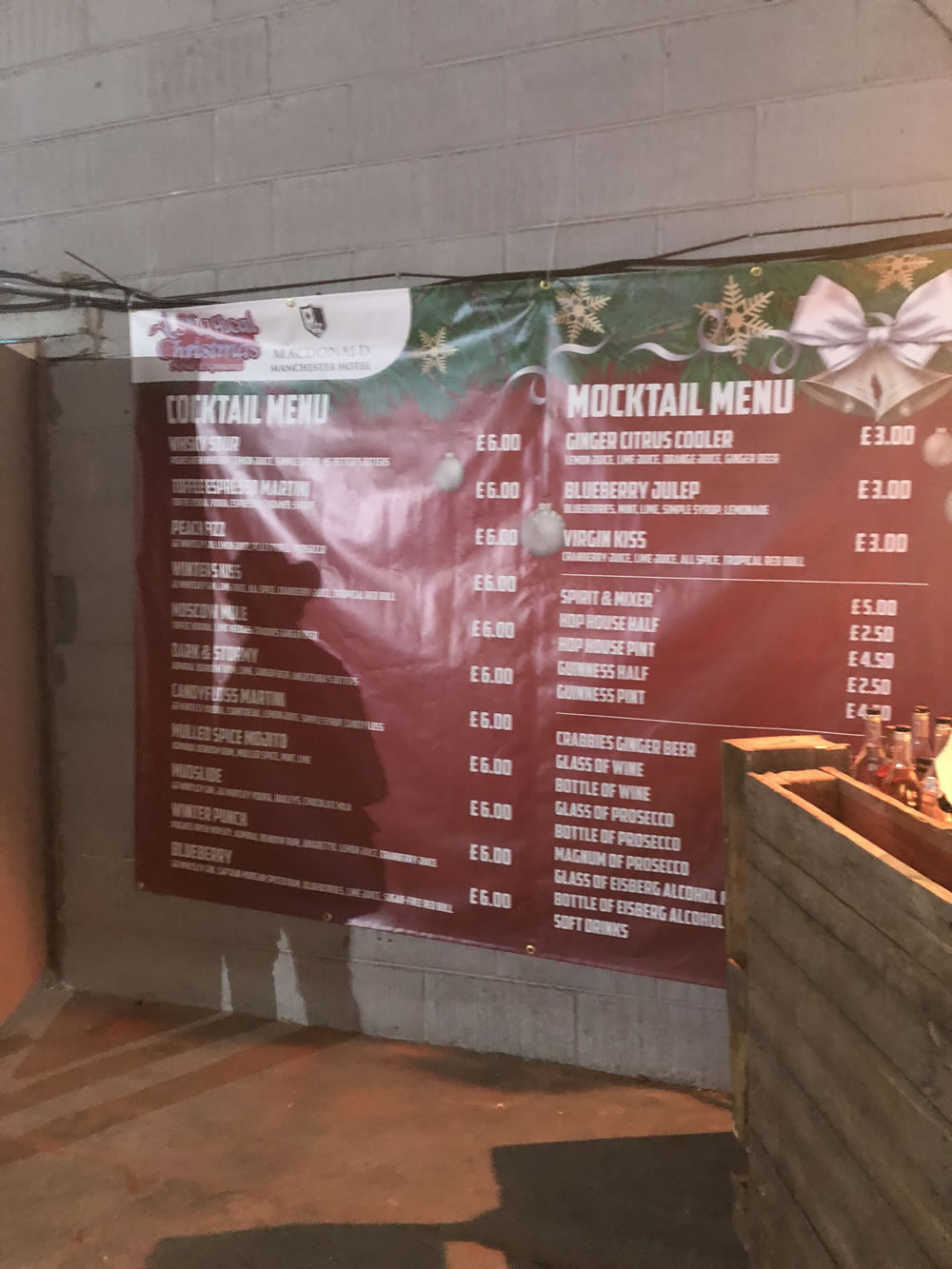 If you want to go yourself, it was £14.99. They are showing a few different Christmas movies like Die Hard, Home Alone, Elf and Gremlins. There is also a Greatest Showman Sing-a-long which could potentially be very good if you're a fan. The acoustics I think would be very good! They price does not include food or drink. Have a look on their web site for more info – https://magicalchristmasmovieexperience.com.