Honest Burgers: Review. Best burger in Manchester?
I went to Honest Burger with group of friends last week. I love burgers and in Manchester, it used to be case where it seemed like you had several really good places to go for a great burger. But I think that is less of a case now. My favourite burger place Filthy Cow closed and I think some places are not as good as they used to be – possibly because they are no longer able to serve their burgers pink. (To do with health and safety – most places can't guarantee that patties would be without bacteria. Usually only can if minced the meat in-house or the butcher they source meat from can guarantee).
Honest Burger opened in Manchester about a month ago and I think its there first branch "up North". They have many branches in London and one in Reading, one Brighton and one in Bristol. Honest Burger in Manchester is next door to Manchester Hall – right next door to Dishoom which opened in Manchester a few months ago.
I looked at the menu before visiting and I was happy that it was a fairly small menu – so they could focus on things – quality over quantity.
Also very happy to see that Honest Burger served their burgers pink – unless otherwise requested. That reminded me a bit of Filthy Cow which kept things simple.
At Honest Burger, there are 3 main "beef burgers". One with just beef (can add cheese), one with beef + bacon and another with beef, bacon + American cheese. There is also a chicken burger and a vegan burger (which is Beyond Meat – had Beyond Meat burger before when cooked myself and its not bad. Close taste and close texture to real meat).
As well as the standard menu, they also do a seasonal special and also a local special. When we went last week, the special was called Spring. This was a beef patty, bacon, Montgomery's Cheddar, wild garlic pesto, rocket and pickles. Like all the other burgers, it came with rosemary chips. The local special was called Manchester – it has beef, black pudding, beer cheese sauce, mini roasties, bacon gravy, rocket and pickles.
I had the Spring burger. It was delicious – lovely and juicy. The rosemary chips were good – I liked how it was a mixture of sizes so you get small crunchy bits. If I am being critical, they were a little bit too salty. But I rarely add salt to anything so quite often I find things a bit too salty.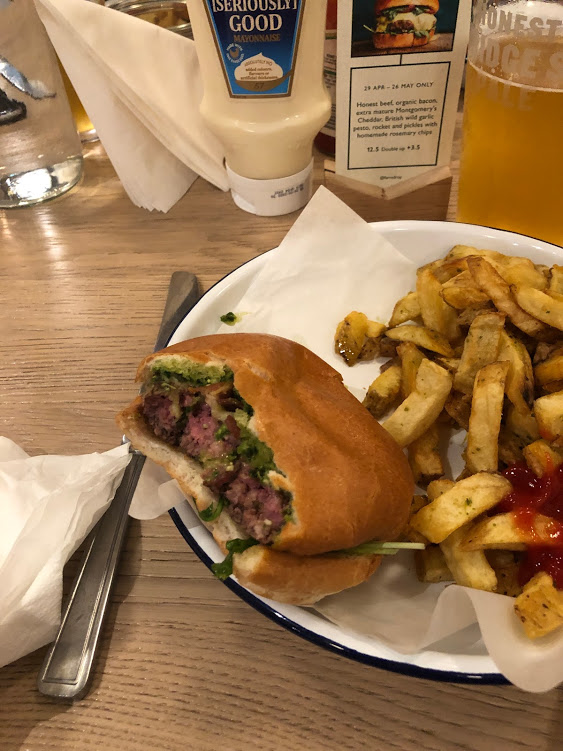 The prices of the burgers? How does it compare to other places? Probably the most well-known burger place in Manchester is Almost Famous. One thing about Almost Famous is all the burgers are double-patty. Although you don't get fries/chips included – fries cost from £3.50.
So comparing the price of Honest Burger to Almost Famous. And also to Byron – another well known burger place. Comparing the most like for like possible to get a burger and fries.
Honest Burger – Beef (Beef, red onion relish and lettuce). £9 + £1 for cheese. £10 (includes fries)
Almost Famous – Famous (Double cheeseburger, salad stack, pickles, famous sauce, bacon ketchup) – £8.50 + £3.50 for Winning Fries. £12.
Byron – Cheese (Beef patty, American cheese, lettuce, tomato, red onion, ketchup, mayonnaise) – £9.75 (includes fries). £9.75
So Honest Burger and Byron is similar in price. At Almost Famous, you get a double patty but with the cost of fries, it costs more. Just a bit more. (If you want a beef burger and fries, you can get this for just £8.75 at Bryons; £9 at Honest Burger).
After eating, we all went to the top floor of Honest Burger which has been taken over by Manchester brewery, Runaway Brewery – with a tap room and a rooftop terrace.