Ban Di Bul – Korean BBQ!
Went to the Korean restaurant Ban Di Bul the other week for some Korean BBQ. Until relatively recently, I had never had Korean BBQ – first time was about 3 years ago. Since then I have had it about 3 times and its always good. Tasty food and lots of it. I had walked passed Ban di Bul many times and always been on my list to check out but its taken until now finally to try it.
Since we were generally new to Korean BBQ, I think I was the only one who had had it before, we went for one of the set menus – Set 2. Was easier and ensured we can a variety of things. The only decision to make was the type of soup you wanted – the seaweed soup or the spicy one. I went for the seaweed one.
Kimchi set, sweet & sour spring onions (and clear seaweed soup). And some sort of mashed potato dish. (Can also see the lettuce to wrap meat and the dipping sauces in photo below).
Above is the photo of the mushroom and veg dish. Really tasty – lots of garlic. Maybe a bit too much garlic? I personally not the biggest fan of kimchi but did try each dish. Not really my cup of tea. The sweet and sour spring onions were nice and the mashed potato dish was OK – was quite sweet. (Also really liked the dipping sauces! Asked waitress what they were and she said one was Korean sauce and one was "Korean BBQ" – bit generic!).
On to the "main course" and the beef, belly pork and spicy chicken. My fav and the fav of the table was the beef. Full of flavour, tender, yummy! The belly pork was also good. By the time we got to the spicy chicken I was really full. It was pretty good, sort of a medium spicy-ness but after you eat several pieces of the chicken, the heat builds!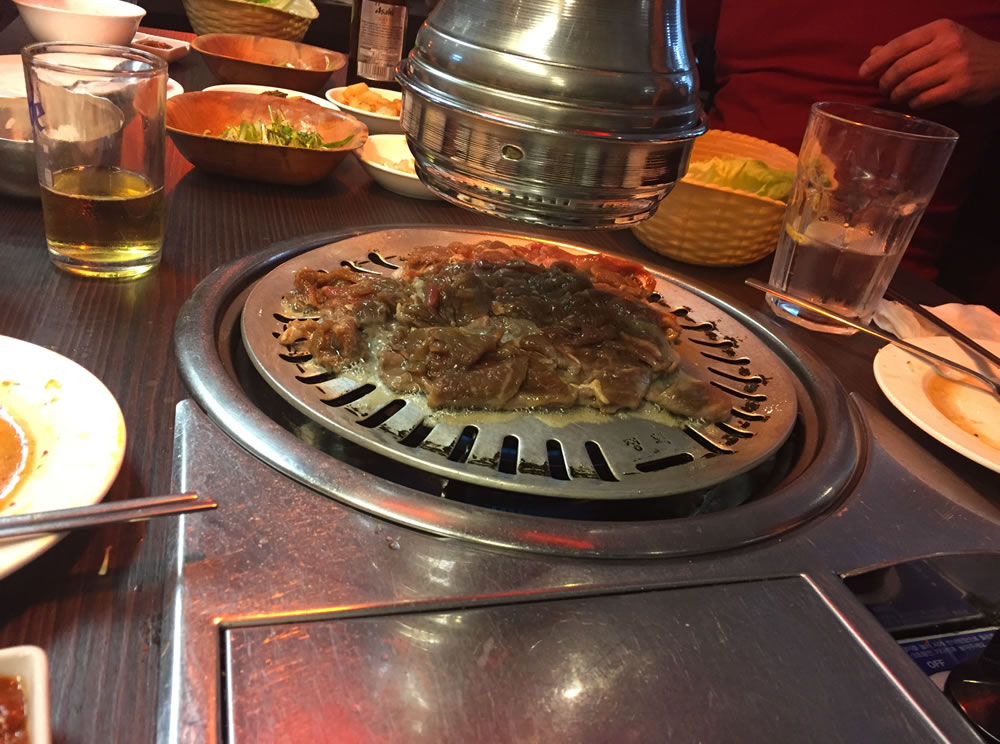 Previously when I have had Korean BBQ, its up to you to cook the meat yourself – although they sometimes provide some assistance. This time, maybe because we all looked like newbies, they started cooking the meats for us and kept coming back to turn the meat etc. Towards the end, I decided to "take over" and started turning the meat.
So overall, I really enjoyed the Korean BBQ at Ban di Bul. I have to be honest and had heard some mixed things about it but I would recommend going.